Yea Im done with the construction lol I added "buy now" and "add to cart" buttons. And accidentally deleted the "by price" section but im too lazy to put it back so its gone now.

When you add to cart you'll notice two options "This is my first item" and "this isnt my first" Your first item will cost you $2 shipping then every item after that will be 75 cents. I hope thats fair. I also hope people will be honest...>_>.

I spent forever adding the buttons- if you run into any problems please let me know. now onto the sneak peeks of whats to come!

This (and all the balls behind it) are going to be known as "alley cats" and they are exclusively being made for Alley cat bead company (as per their request). so if you decide you're going to want one you should keep an eye out on that website- because there and in the store is where they're going to be.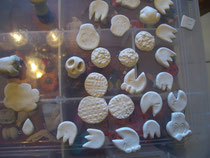 In this picture- Sad raincloud with a raindrop, Day of the dead skull (its actually for my friend and isnt for sale), Pac man, mrs pac man, the pac man ghosts, Skulls, female skulls, froggys, Chocolate chip cookies, Peanut butter cookies,one of those mario money block things- and to the far left is a top view of one of the hugging bunnies for another of my friends.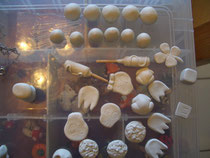 We have some of the same ones from the last photo but some other ones that were higher up too- Up at the top we have top views of yoshi eggs and mario mushrooms, four leaf clovers, some corn dogs, a mario "?" block, some more froggies, and the other unfinished hugging bunny.
there see? who says I havent been working hard? Now to get back to work on them!

Till next time folks!