Oh man Im so excited- I have so many new things in store- and I've been working non stop lately to do them! I have a few updates for you- that I spent oalmost 4 hours putting up- so lets get right into it!

first Off we have new sections! we have jewelry and theres so many new things in there for you to see! Have a look!
those bottles are only an inch tall- Perfect for little pendants on a necklace or a bracelet- Or even possibly on your cell phone- whereever you want to put it! but you have to be careful because the bottles ARE glass. and mistreatment will break them- and you'll lose the faerie magic inside of them.

Onward we go!

I updated the alley cat area and got unlazy and added the new arrivals in the Meet the alley cats area- go see the new cats if you want <3 Im sure they'd love a home with you!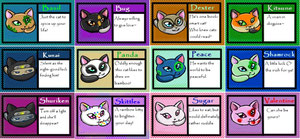 I also added some new wall paintings- So you can look at those too if you want!
Oh man- so many things and so many more things to do!

Keep checking back Im hoping to update more soon!

However due to multitudes of birthdays and family dealings I might be late on that so dont quote me!

Until next time!